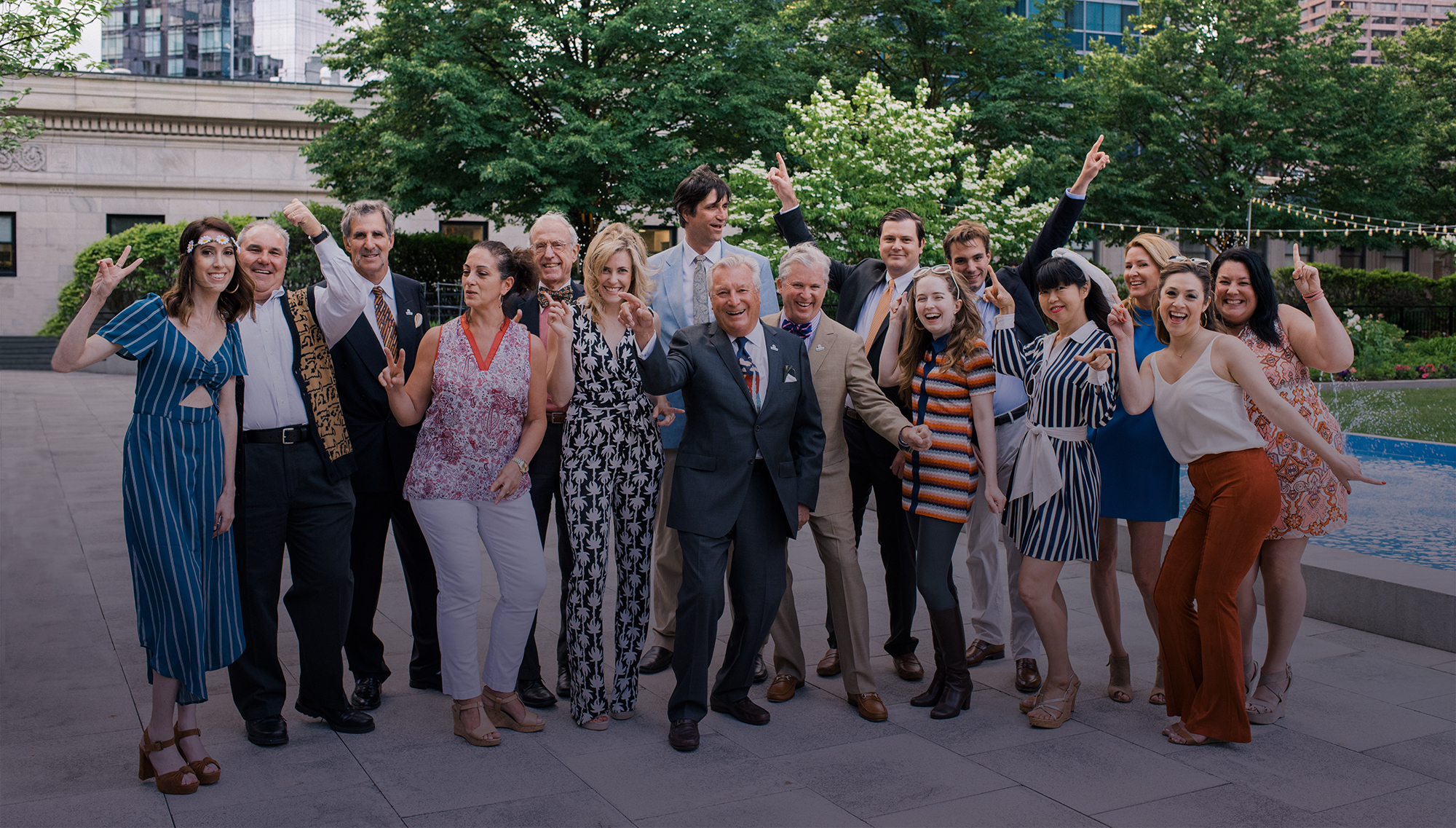 We're celebrating 40 years of Watermill.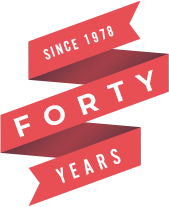 The Private Equity industry has changed a lot over the last 40 years and so have we. Join us as we look back and celebrate the people and places that helped us build the firm we are today. From cringeworthy outfits to a ridiculous amount of water sports, we hope you enjoy this trip through our archives!
The Early Days
Steve Karol and his father, Herb Karol, founded HMK Enterprises in 1978. It was the wild west in those early days of private equity, with bootstrap deals the norm and businesses purchased with very little equity required. Steve & Herb probably never envisioned that one day we'd ditch the suits and mustaches and allow dogs in the office, but the collegial culture they built endures to this day.
HMK's first investment in plant modernization, Sheffield Steel was our hottest deal of the decade.
HMK's first attempt at a video.
Watermill's strategy led focus and emphasis on learning has been in place since the beginning.
Jane Karol started her career at HMK in Human Resources. She now prefers to work with horses.
Joan Karol always tells it like it is. HMK's first head of PR and event planning kept the brother's in line.
Tom Karol busy at work making the first Visicalc model.
The Karol brothers showing early signs of facial hair alternatives. Our team photos have changed a lot.
Shelly & Steve Karol's costumes were the bee's knees at HMK's famous themed conference parties.
A photo shoot for one of the first HMK brochures. We've since learned how to smile for photos.
A Family Affair
In the early 80s Herb Karol passed away unexpectedly. By then, Steve had been joined in the business by his two brothers, Tom and Bill. Their sister Jane was in charge of human development and their mother Joan was in charge of public relations. Collaboration and professional entrepreneurship were key as they worked to expand the business. By 1990, HMK was one of the largest privately held companies in Massachusetts, with more than $1B in consolidated sales.
The Karol family jumps into action.
Two of our first operating partners, Bob Ackerman and Jack O'Malley, a strategic thinking brain trust.
Our first consumer deal is still a favorite treat in the office.
Persistent drive to the finish line—always a hallmark of Watermill.
The Karol brothers…there's a reason many of our deals come from BBQ country.
Despite the formal photo shoots, this is a family that loves working together.
The Dawn of Watermill Ventures
By the early 90s the Karol brothers each wanted to pursue their own life goals and decided to split HMK into three separate businesses. Steve founded Watermill Ventures (later renamed Watermill Group) with Dale and Bill in 1991. By 1992 Ben and Bob had joined the team.
Watermill is always fishing for new deals.
These stylish bags would now be retro chic.
Thankfully hats have gotten smaller over the years.
The Karol family has always had a signature hair style.
Watermill's first attempt at business casual; could just as easily be the high school chess club.
Steve Karol's first tryout for corporate pilot.
Checking out the new product line at Hollytex.
The Industry Comes of Age
With the leveraged buyout craze in full swing, members of Steve's extensive network expressed interest in investing with Steve if he ever took outside capital. Forming Watermill allowed the team to begin raising capital from talented entrepreneurial individuals, a model we still follow today.
Our future president falls out of the sky to shake up the family business.
Bob Ackerman and Charlie Stolper excited about a new deal.
Watermill's larger than life characters
Ben Procter getting schooled on strategy once again.
Steve Karol getting schooled in systems and processes.
Our most significant facility transformation to date.
Building for the Future
Julia Karol joined the business in 2009 and the prospect of building a third-generation family firm meant it was time to lay the groundwork for a business that would continue to evolve and excel far into the future. To compete in an increasingly competitive market, Watermill expanded the team, building out the next generation and further developing the Watermill brand so Herb's entrepreneurial legacy would live on.
Watermill wins Private Equity firm of the Year.
40 years later and still having fun together. Tim Eburne, Ben Procter, and Dale Okonow.
The joys of technology as the partners increasingly work remotely.
How many private equity people does it take to close a deal?
We spend so much time together we've started dressing alike. #twinning
Watermill made its first investment in the automotive industry in 2015.
Our holiday cards have gotten more ambitious over the years.
The mayor of ACG and his team at it again.
Ben Procter. Moderator extraordinaire.
Watermill's always had a competitive and playful spirit.
Harvesting more than business success.
When your team loves you so much they put your face on a shirt.
Joan Karol. The legend visits our offices.
We love celebrating milestones in the lives of our team members.
We never miss opening day.
Sleeping beauties. Working hard from our other remote office.
Steve Karol prefers to work behind the scenes. It took us 40 years to get him to agree to a cover story.
Dash & Beckett – our most loyal teammates
40 Years Strong: Celebrating a Major Milestone
Watermill commemorated its anniversary with a private celebration in downtown Boston. At the celebration, Ms. Karol reflected on the milestone, stating: "For the past four decades, Watermill has thrived on the foundation that my father, grandfather, and every member of the Watermill team has built based on creativity, integrity and professional entrepreneurship. This foundation has shaped an exceptional enterprise that's improving companies and impacting communities. We are honored to be building on that foundation and creating Watermill's next phase of growth and evolution."
Founder: Herbert Karol
1924-1983
HMK/Watermill was built from the mind of a classic entrepreneur. He was a creative, analytical risk taker with a steadfast vision, and more than a hint of insanity.
Herb was just as one might imagine an entrepreneur in 1978 – hard to imagine. This was a time when you had to wait for your assigned day of the week, depending on your license plate number, to buy gas.
This was the time of the OPEC oil crisis and the horrid recession that went along with it. And, this was the moment that Herb began to venture into the world of finance and the beginning of complex financial acquisitions that began with the bootstrapped deal. A term that would define the man.  Start with a negative balance and pick yourself up by your own bootstraps.  He was a driven, optimistic and utterly creative problem solver. He was strong-willed, brilliant, and mentally tough in the pursuit of his vision. He'd be on the phone at 2:00am working out deals, solving problems, pacing. Herb was the ultimate salesman, making everyone believe that they should believe in him and this new investment idea. And they did.
Sadly, Herb passed away just when his businesses were starting to look healthy, and the economy was shifting, and the risk was starting to lessen. HMK/Watermill would move forward without him to this anniversary 40 years later because, while he was a mad risk taker, he was also the consummate teacher. He taught his kids, and his wife, everything from how to hit a tennis ball, to how to mold perception, the underpinnings of developing trust in business partners, making sure to surround yourself with smart and innovative people, and the beginnings of complex deal-making and finance. He taught and made us believe that his ideas were ours. And ours were his. So while he left us early, he planted the seeds of vision and passion in three pioneers in a now insanely complex finance world: the Karol brothers. He left his legacy with all his children and grandchildren in an incessant drive to problem solve, to attend to one's vision no matter how crazy it seems, and to seek creative and more brilliant minds to join them in developing, expanding and realizing that vision.
In honor of my father,
Jane Karol – 2018

Thank you!
It's hard to believe it's been 40 years. Thank you for taking this trip down memory lane with us. We can't wait to see what the future holds!