40 Years Strong: Watermill Celebrates a Major Milestone
This month marks our 40th year in private investment.
Founded as HMK Enterprises, over the past four decades Watermill has grown into a leading and enduring presence in the middle market and beyond, acquiring, operating and improving dozens of businesses in the US and around the world. We recently commemorated our anniversary at a private celebration in downtown Boston.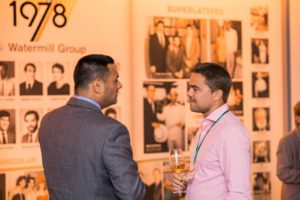 Infused with a retro theme that reflected the firm's founding in 1978, the night brought together Watermill employees, partners, investors and portfolio companies from present and past to celebrate our history of shared successes and the even brighter future ahead.
As a live band played 70s favorites and guests decked out in far-out fashions rediscovered forgotten snacks from the past, Watermill team members including Managing Partner and Founder Steven E. Karol, President and COO Julia Karol and Senior Partner Benjamin P. Procter entertained and thanked the guests assembled through heartfelt words, a video retrospective and a poem for the ages.
At the celebration, Mr. Karol reflected on the milestone, stating: "As a third-generation family firm, we are humbled to celebrate 40 years. Watermill's endurance is a testament to the vision and values we established as a company years ago and continue to lead with today."
The anniversary comes on the heels of several achievements for Watermill. Last month, our cross-border acquisition of Cooper & Turner was named a 2018 International Industrials Deal of the Year by M&A Advisor, the premier global network of M&A, turnaround and finance professionals. In addition, M&A Advisor named Watermill's acquisition of Experi-Metal, Inc. a 2017 Industrials Deal of the Year and that same year recognized Ms. Karol, as well as Sarah Bowen, Director of Marketing, as Emerging Leaders in the field. Ms. Karol was also named one of 2017's Most Influential Women in Mid-Market M&A by Mergers & Acquisitions Magazine.
"For the past four decades, Watermill has thrived on the foundation that my father, grandfather, and every member of the Watermill team has built based on creativity, integrity and professional entrepreneurship," stated Ms. Karol. "This foundation has shaped an exceptional enterprise that's improving companies and impacting communities. We are honored to be building on that foundation and creating Watermill's next phase of growth and evolution."
For a deeper dive into our history, check out our interactive timeline.