Partner Profile: Meet Watermill Group's Tracy Streckenbach
It's hard to believe Tracy Streckenbach has already been a part of the Watermill team for a year. In honor of her first anniversary at Watermill, we roped her into a little Q&A. We hope you enjoy her reflections on the past year!
What is the quirkiest deal you have worked on?
Wigs! Need I say more?
How would you describe your first year at Watermill?
My first year at Watermill helped me build my investor toolkit. My experience in running companies makes me a confident CEO, but my first year at Watermill has rounded out my understanding of what it means to build an investment someone else wants to buy.
What did you like most about your first year?
The team – they're creative, fun, eclectic, diverse, motivated and kind.
What surprised you?
For most of my career, I have made it a habit of skipping lunch and working straight through. The Watermill team eats lunch together every day. There is no work discussion at all. We discuss world issues, interesting travel stories, and we laugh together. I've been surprised at how much this can bind a team.
What do you like to do outside of work?
I truly enjoy traveling and love that it helps me see my life from a new perspective. I love exploring the world with my husband and three boys. We aren't really relaxing travelers and tend to cram in a lot of miles in a short time. Predictably, none of our friends want to travel with us!
What professional achievement are you most proud of?
I find running companies as a CEO to be a very challenging and rewarding role. In turnaround situations, this role is especially nuanced and complex. I'm most proud of a really tricky CEO turnaround experience which reinforced some of my foundational beliefs about the power of a great team and always doing the right thing, even when it's difficult to do so.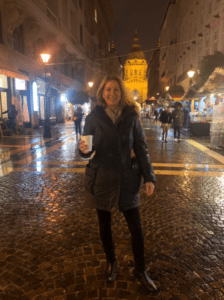 Give us a fun fact about yourself?
In one summer, I was both chased up a tree by a bear and accidentally went over a dam in a homemade raft.
What made Watermill appealing to you?
Watermill is a family business and has all the BEST attributes of one. The team enjoys spending time together socially and often includes spouses and family members in outside activities. I could always tell, even from the outside, that Watermill was culturally special. From the inside, I feel a responsibility to nurture that really unique culture that thrives on excellence and, at the same time, supports experimentation and learning.
What do you most enjoy about your job?
I enjoy working with companies, setting clear and measurable objectives and helping to guide the path forward. I greatly value the relationships that I get the opportunity to develop with our senior leadership teams and advisory boards.